Rosewood Xiao
3 Piece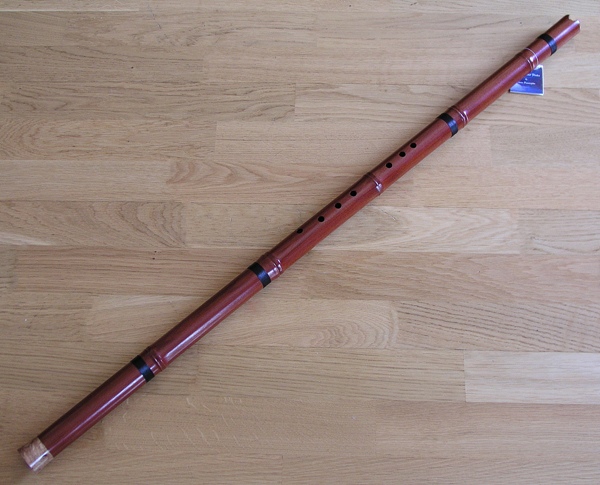 Available in both F and G tuning, this gorgeous hand crafted 3 piece Rosewood Xiao is the
piece de resistance
of Vance's hardwood Xiaos. It has been created with the ultimate performance and recording qualities that professionals are looking for and having been created in 3 perfectly fitting pieces, crowned with Burl wood from the Maple tree. it is easy to transport in its custom made soft case.
Students (beginners) will discover that they can easily attain a professional quality sound with this instrument, progressing into more decorative styles of playing as they grow with experience.
This is an all wooden instrument, created from a solid block of rosewood. Metal ferrules which can contribute to blocking the resonance of the whole instrument have not been used. As with all top quality, professional wind instruments the cork sealing bands have been inset into the wood for total durability. The thread binding is decorative only and is created from quality thread and lacquer, tied in the traditional way to honor those generations of Chinese Xiao makers who have gone before us.
For further information on the tuning of this instrument please visit our
Fingering/Tuning Chart
.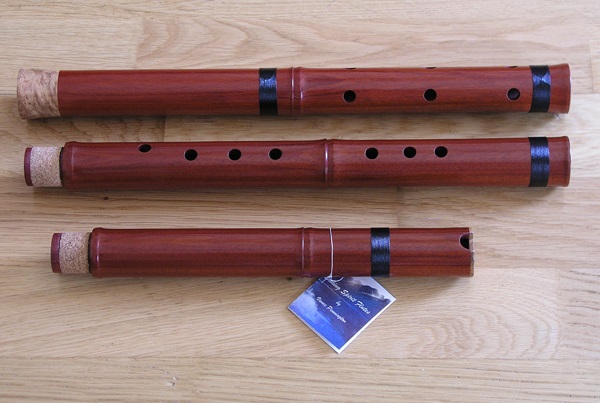 Click on images below for larger view.

| | |
| --- | --- |
| | |
| | |
| --- | --- |
| | |
Please note: Grain patterns and coloring will vary according to species available.
| | |
| --- | --- |
| | Sound clip of a Xiao being played by Master Xiao player, Mr. Gary Stroutsos (from his album 'Within You, Without You'. Album produced by William Hoshal) |
Specifications

Wood Species

Rosewood (varying species)

End Cap/Node

Maple Burl

Binding

Lacquered Thread

Length

Traditional 36 inches (approximately) for key of F
Traditional 32 inches (approximately) for key of G

Tuning

Concert at 72 degrees. A4=440 Hz. 8 hole (7 finger and 1 thumb) in the Traditional keys of F and G. Capable of playing notes in the second and third octaves and above. 6 (3 pairs of 2) Traditional Tuning/Breathing holes.

Note to Native American Flute players:

The fundamental note of the Xiao in the key of F is 'Low C (C4)'. The fundamental note of the Xiao in the key of G is 'Low D (D4)'.

Click here for tuning charts Click here for music scores and fun to play with MP3 backing tracks